Bichon Frise: Tresors Blancs Bichons Frises




This site provides personal interests/accomplishments concerning the Bichon Frise Breed. While occasionally puppies and rescues are available, Bichon Frise breed information is always available ! In addition, this site will provide other information and links concerning the Bichon Frise, Dogs, Planet Austin, and Texas.
This site is best viewed with frames.
If you have reached this site without frames
Please Click: FRAMES
TRESORS BLANCS BICHONS FRISES
So You Think You Want A Puppy/Dog?-- The Right Way To Start
Initial "Steps" To Follow to See if You Should Get a Dog and How To Begin Your Search.
Thinking About Getting A Bichon Frise?
If You Think You are Interested In Getting a Bichon, Here are Some Things To Consider.
What To Look For In and How To Find A Bichon Breeder
Characteristics and Practices of a Reputable Bichon Breeder ("According to Steven") and Where To Begin Your Search for a Bichon Breeder.
Thinking About Breeding Your Dog?
Please Read This if You are Wanting to Breed Your Dog.
Tresors Blancs: Availability of Puppies / Rescues
Current Availability of Puppies and Rescues from Tresors Blancs.
Bichon Frise & Dog Information: Books, Videos, Cards, etc., on Bichons, General Dog, Rescue/Shelter, Behavior/Training, Housetraining, Health, Breeding, Agility, etc.
Support the Bichon ResQ Web site by purchasing items and more from Amazon.com. All the Information you need to be an Informed Buyer or Owner.
Bichon Frise: Recommended Grooming Items, Kennels, Leads, Toys, Bones, etc.
Various Items that an Owner Should Have To Groom and Maintain a Bichon. Should Be Especially Helpful for the New Owner.
Texas All-Breed & Bichon Specialty Shows
Bichon Frise Pictures: Shandon & Beginning
Bichon Frise Pictures: Bestla
Bichon Frise Pictures: Yukon
Tresors Blancs Latest Champion (2002)
Bichon Frise Picture (Fun!): "A Whole New Meaning to Bred-By-Exhibitor"
United States Bichon Frise Standard
"Unofficial" Version of the U.S. Bichon Frise Standard. This is the "blueprint" of an ideal Bichon specimen.
Heartfelt Impressions Cards & Gifts
Wonderful Bichon Cards and Gifts by Patty Burke. A Must See!
Bichon & Other Dog Related Jewelry
You Want Bichon or other Dog Related Jewelry? Well, Here is the Best!
Recommended Austin, TX Pet Services: Veterinarians, Groomers
Here is the Veterinarians I recommend in Austin and "sort of " a recommendation for Groomers.
Homemade Dog Food
TRESORS FLINT RIVER ™
BICHON ONE ™
BICHON FRISE LINKS
Bichon Frise Rescue: Bichon ResQ
Bichon Frise Rescue Information, FAQ's about Bichon Rescue, Bichon Rescue Volunteer Directory, How You Can Help, Procedures to be Considered for a Home, Bichon-ResQ Email Discussion List, Rescue Stories.
Bichon Frise Club of America (BFCA)
Home site of the United States National Breed Club: Purpose of Club, Bichon Breeder's Directory, Local Bichon Clubs, FAQ's about Bichons, Bichon Health Issues and Online Bichon Health Survey, National Club's Specialty Information and more.
Bichon Frise Club of Canada
Bichon Frise Club of Great Britain
Bichon Frise Club of Ireland
Bichon Frise Club of France
GENERAL DOG LINKS

OTHER LINKS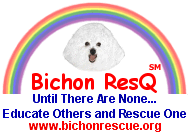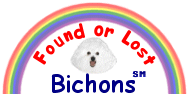 Comments or Questions:
Due to the enormous amount of Email and limited time available to
answer, I would ask that you PLEASE ensure that your questions
are not answered here on this web site before emailing. I believe
that 99% of questions are answered here or there is direction
given for you to obtain your answers. Thanks !



Otherwise:
Steven@tresors.org

This candle that burns here was originally put here in support of a fellow lover of Bichons from Japan: Kiyomi. It signified my, and others, continuous thoughts and prayers that were sent to our friend who was undergoing "trials." Kiyomi was escorted to Heaven by the "White Angels" and the candle now remains here as a memorial to her and the talents she shared with the world. It also remains as a symbol/reminder, along with the other candles burning around the world, of the continuous thoughts and prayers that are being sent to comfort all other Bichon Lovers and their Bichons who are undergoing their "trials."
(Click on the Candle to be linked to Kiyomi's Home page)

Use of this site signifies your agreement to the Terms and Conditions
© 1998-2004
Tresors Blancs Bichons Frises
All Rights Reserved